MEET SCOTT PRUETT...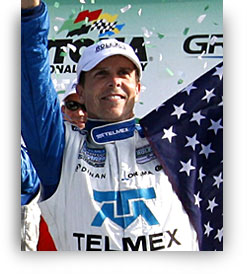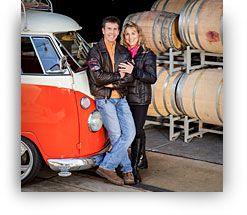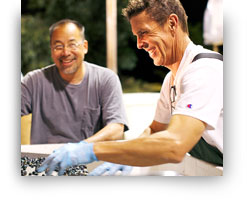 Birth Date:
March 24, 1960
Birthplace:
Sacramento, CA
Residence:
Northern California
Hobbies:
My Vineyard, wine,
hiking, biking and working out
Marital Status:
Married to Judy
Children:
Lauren, Taylor & Cameron
Sportscar Wins:
60 (record)
Championships:
11 (record)
Rolex 24 Wins:
5 (record)
Experience:
NASCAR, Grand American, CART, USAC, ALMS, IMSA GTO/GTU/GTP, SCCA Trans Am, IROC, Professional Karting Association
Championships:
Rolex Grand Am Championship (2004, team 2006, 2008, 2010, 2012)
SCCA Trans Am Championships (1987, 1994, 2003)
IMSA GTO Championships (1986, 1988)
IMSA GT Endurance Championship (1986, 2008)
Professional Karting Association World Title (1981)
Notable Wins/Honors:
Scott Pruett is teaming with Lexus once again, and will campaign the RC F GT3 in 2016. Pruett and Lexus have a history of success both on and off the track. Pruett campaigned Lexus-powered prototypes from 2004 through 2007 in the Grand-Am Rolex Sports Car Championship Series, earning three driver championships and winning the Rolex 24 at Daytona overall in 2007. Beyond his on-track feats, Pruett was an integral part of the development and global promotion of both the Lexus LFA supercar and the Lexus IS F performance sedan.
Rolex Grand Am Record Most overall wins
Rolex Grand Am Champion (2012, 2010, 2008 and 2004)
Record breaking 8 American Road Racing Championships
Record seven time winner Rolex Daytona 24hr, including two back-to-back overall titles (2007 and 2008)
SCCA Trans-am champion (2003, 1994, 1987)
2002 Olympic Torchbearer
24 Heurs Du Mans LMGTS Class Winner (2001)
24 Hours of Daytona (2012, 2010, 2007, 2002, 1994, 1988, 1987)
IROC Daytona win (1991)
IROC Riverside win (1987)
CART wins (Michigan 500 1995), and Australia (1997)
Indianapolis 500 Co-Rookie of the Year (1989)
IMSA Champion (1988, 1986)
World Karting Hall of Fame Inductee (1991)
BIOGRAPHY
Scott Pruett, a native Californian, started his racing career after only 8 birthdays. He rose through the karting and sports car ranks before establishing a 10-year strong career in the Championship Auto Racing Teams series. Before joining CART full-time, Pruett built a solid, multidisciplinary racing career. He was a two-time SCCA Trans-Am champion with two IMSA GTO championships, including two 24 Hours of Daytona GTO wins. He had an IMSA GT Endurance title, 10 pro karting titles, and annual IROC participation under his belt.
In CART, Pruett earned recognition as the driver who helped reintroduce Firestone tires to open-wheel racing. He spent 1994 as the test and development driver for the tire program, logging more than 10,000 miles. In 1995, he ushered in the manufacturer's first modern-era win at the Michigan 500 in an exhilarating last-lap battle with Al Unser Jr. Scott was widely regarded as one of the most technically astute drivers on the circuit, and admired for rebuilding his career after a devastating 1990 testing accident forced him to spend a year in rehabilitation.
In 1999, Pruett competed on the CART Circuit in a Toyota-Reynard for PPIM, earning the manufacturer its most successful season with three top-five starts and six top-ten finishes. He assisted in the development of the engine, and earned Toyota's first pole position in history at Fontana. Pruett's CART career includes two wins, five poles and consistent top-tens in series point standings.
In 2000, Pruett competed in the NASCAR Winston Cup Series for the rookie team, PPI Motorsports. The rookie driver and team earned prestigious second place qualifying positions at Las Vegas and Texas, and a top-ten finish at the Brickyard.
Pruett took his racing overseas to France in 2001, to compete in the prestigious 24 Hours of Le Mans race. Driving for the factory Corvette team on a rain-soaked track, Scott took the win.
2003 brought Pruett back to sedan racing in the BF Goodrich Trans-Am Series, where he earned his third Driver's Championship in the series.
In 2004 Pruett signed on with Chip Ganassi and Lexus to compete in the Rolex Grand Am series. After winning four races and a record setting 12 out of 13 poles he brought home his seventh championship. In 2005, 2006, and 2007 Pruett finished second in the Rolex Grand Am Championship.
Competing in the Rolex 24hr at Daytona, Scott won in 2007 with teammates Juan Pablo Montoya and Salvador Durán, and again in 2008 with Juan Pablo Montoya, Memo Rojas and Dario Franchitti, for back-to-back wins.
Along with competing in selected NASCAR races in 2008, Pruett continued to campaign in the Rolex Grand Am Daytona Prototype Series with Chip Ganassi Racing from 2008 through 2011. He and teammate Memo Rojas won the championship in 2008, representing Scott's second win in the series. They finished a close second in the 2009 championship, and in 2010 the pair took home the Championship once again, with Pruett breaking many records along the way.
In 2012, Pruett again paired with Memo Rojas and Chip Ganassi Racing in the Rolex Grand Am Daytona Prototype Series, this time powered by BMW, and once again won the Championship. Pruett and Rojas teamed up again in 2013, taking first in the Owner's Championship and second in the Driver's Championship! Scott took the overall win in the Rolex 24 At Daytona, tying Hurley Haywood's record at five victories.
2014 saw Pruett, Rojas and Ganassi changing to Ford power, bringing Scott back to Ford where he started his racing career many years ago. In 2015, Pruett paired with Joey Hand and Chip Ganassi Racing, with Ford as their Title sponsor and power. Scott also earned his record-shattering 60th win in IMSA!
Scott currently lives in Auburn California, and enjoys working outside in his vineyard, time with his family, and his labor of love, making wine.
Pruett Vineyard
is continually gaining acclaim with consistently outstanding Wine Spectator ratings. Highlights from 2012 include a 96 rating for his
Championship Cuvee
, and a 95 rating for his
Taylor's Reserve Syrah
. Pruett's four 2013 estate wines,
Championship Cuvee
,
Lucky Lauren Red
,
CSP Estate Syrah
and
Taylor's Reserve Syrah
, earned impressive ratings of 94, 90, 93 and 90 respectively from Wine Spectator!
He and his wife, Judy, have written and published a number of children's books about racing, published by their company,
Word Weaver Books
. The first book, entitled "Twelve Little Race Cars," sold out at race tracks across the country.