BIO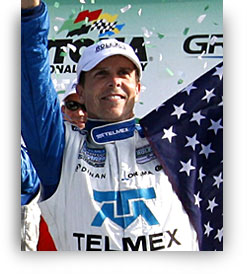 Scott Pruett was born in Roseville, California on March 24th, 1960, and started his racing career in karting at the age of eight. He went on to win ten professional karting championships, and was eventually inducted into the World Karting Hall of Fame. In 1984, he began racing sedans, and soon established himself as a top American sports car racer. He won IMSA GTO Championships in 1986 and 1988, and had two Trans-Am Series titles under his belt by 1994.
Pruett ran his first CART series race in 1988, and in 1989 was named Indianapolis 500 Co-Rookie of the Year. He was widely regarded as one of the most technically astute drivers on the circuit, and is greatly admired for rebuilding his career after a devastating testing accident forced him to spend a year in rehabilitation in 1990.
He also earned recognition as the driver who helped reintroduce Firestone tires to open-wheel racing. He spent 1994 as the test and development driver for the tire program, logging more than 10,000 miles. In 1995, he ushered in the manufacturer's first modern-era win at the Michigan 500 in an exhilarating last-lap battle with Al Unser Jr.
Spanning five years of open-wheel CART competition with Patrick Racing, Scott earned 40 top ten finishes and 13 podium finishes, including his 1997 win at Surfers Paradise Australia (Nikon Indy 300). In 1998, he finished sixth in the championship standings, his CART career best.
In 1999, Scott joined the Arciero-Wells CART team, and earned Toyota's best qualifying effort ever (California Speedway), as well as Toyota's best qualifying effort on a road course (Australian Grand Prix).
Following his start in NASCAR, Scott also lent his talents to radio broadcasting, commentated races for ABC/ESPN, and worked with Speed Channel doing pit reporting; all while continuing to win races. In 2002, he was selected to be a torchbearer for the XIX Olympic Winter Games in Salt Lake City.
In 2003, Pruett earned his third Trans-Am Championship in the Motorock Trans-Am Series. Scott also ran two NASCAR Winston Cup races for Chip Ganassi Racing, taking second place at Watkins Glen. In 2004, Scott won the Grand Am championship, also with Chip Ganassi Racing. He competed in both of the NASCAR Cup Series road races, finishing third at Sears Point.
Scott is a five-time Rolex Series Champion (2004, 2008, 2010, 2011, and 2012), and four-time Rolex 24 At Daytona winner (1994, 2007, 2008 2011). In 2010, he and co-driver Memo Rojas dominated the field with 11 podium finishes, and set the record for GRAND-AM wins in a single season with nine wins. Pruett is the single most successful Daytona Prototype driver ever - holding career records for wins (39), pole positions (30), podium finishes (78) and laps led (2152). Together, Pruett and Rojas hold the distinction of being the most successful driving pair in series history.
Scott and his wife, Judy, have three children, and now reside on their vineyard in Auburn, California. Scott enjoys spending time with his family, hiking, biking, and staying fit. While he continues to break records in racing, he also operates
Pruett Vineyard
, producer of award-winning wines. Scott and Judy have also written four children's books, which are being sold through their publishing company,
Word Weaver Books
. Scott is also heavily involved with Lexus's launch of their new LFA Supercar.